I'm the author of the title picture, and these are my ThinkPads. I've been very loyal to the ThinkPad brand for more than a decade. Until Lenovo sold me a lemon — ThinkPad X13 AMD. That event encouraged me to reflect on my loyalty. Which I did, and now I'm happy to share the results.
How did I reflect? I looked at the ThinkPad evolution under Lenovo by comparing all the models I own: X220, X270 and X13 AMD (and occasionally a very similar T14s). If there was something I liked in X220 which Lenovo killed in subsequent models, I put it on the bad list. If there is something that Lenovo kept or even improved in its newer models, I put it on the good list. By doing so, I was hoping to understand if my loyalty to ThinkPads still has any rational grounds or is mainly driven by habit.
In the end, as a bonus, I will share what's so awful about X13 AMD (and any other AMD-based laptop sold by Lenovo).
Caution:

Biases ahead 😉

When I started working on this post, I did not know where my reflecting would lead me. I admit that I had a feeling I was going to bash Lenovo for selling me a terrible product, but nevertheless, I tried to remain calm and rational. Despite my trying, you may find some statements biased and unjustified
Meet our contestants!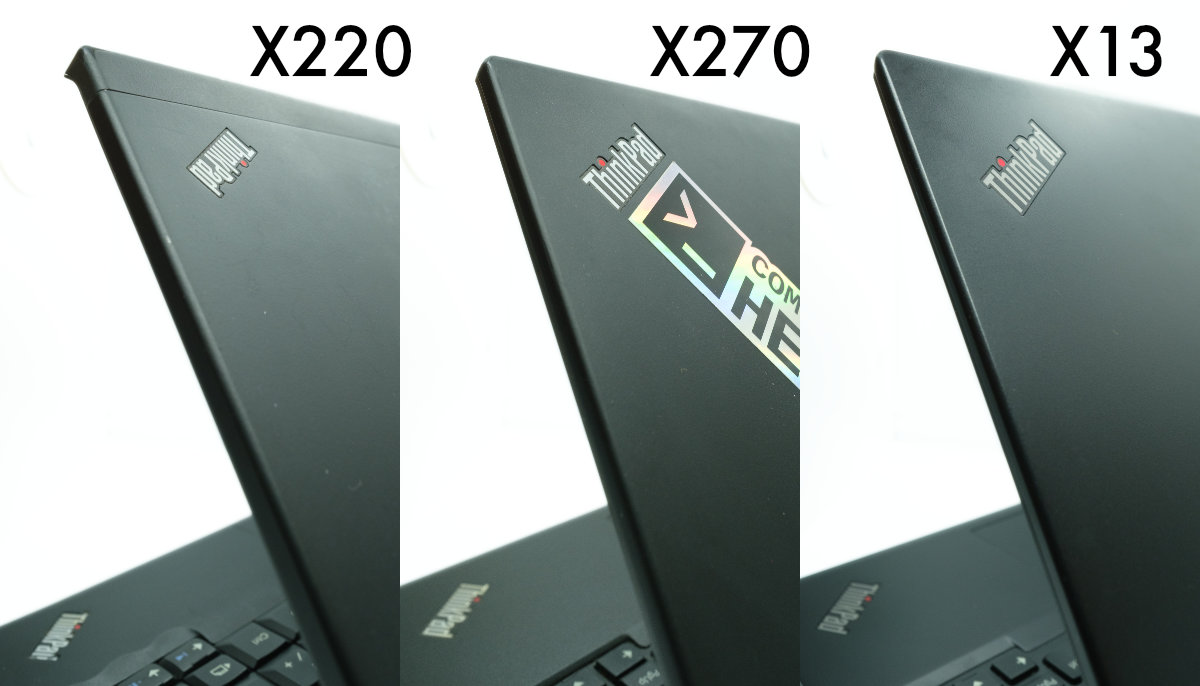 In the Battery life and design section, I substituted the X13 AMD with the Intel-based T14s because the X13 AMD's battery performance is awful. I could not find anywhere what battery life Lenovo promises on a single charge; in my experience, it barely survives 6 hours.
But the biggest issue with the X13 AMD is not its battery life when the laptop performs any work, but its battery life when it sleeps!
Soon after receiving my X13 AMD I noticed some issues: I often would take out my X13 AMD from my backpack to only find it completely discharged. Since I had long lost the habit of tracking the battery charge, I explained this by forgetting to charge the machine. Sometimes upon pulling the laptop from the tight backpack pocket, I would notice that the bag is slightly warm. Sometimes the computer would be straight powered on, other times it would be sleeping, but somewhat warm anyway. Then I noticed that sometimes the laptop would wake up immediately after going into suspend. There were other minor annoyances, like the key '4' "sticking" (not physically) and producing a long stream of 4444444444444444444[2].
The only real issue to me was unreliable suspend. I assumed it was caused by poor Linux support. And since I was busy at the time, I decided to postpone the troubleshooting and get back to using my other laptops. If I knew what I know now, I would've returned the computer and requested a refund.
I thought it through: the two things I liked about ThinkPads the most are their unique ergonomics and the above-average Linux support.
Most of the ThinkPads' unique features, as I've realized upon writing this article, are long gone. The only remaining part of the legendary ThinkPad ergonomics is its TrackPoint. At the same time, the combination of mediocre keyboard layout and just average palmrest make ThinkPads less suitable for comfortable typing sessions anyway, somewhat reducing the real TrackPoint advantage to mere sentiment.
The removal of the SD cards slot and Ethernet port has made recent ThinkPads a suboptimal choice for traveling photographers and some IT professionals.
The Linux support is still slightly above average, although the average, thanks to the overall progress and companies like Framework computer and System76 have increased. But there are still plenty of vendors out there who continue making questionable technical decisions hurting Linux support.
Lenovo still has an edge with their international warranty, although after my experience, I'm hesitant in relying too much on it. And Lenovo's indifference to customers satisfaction (as demonstrated by my experience with X13 AMD) is straight frustrating.
Despite my holding a grudge, I conclude that Lenovo ThinkPads are still a decent choice today. However, due to their losing their unique character ThinkPads are no longer uncontested: few companies out there offer similar specs packed in a slightly more generic design, but with a better Linux support as a trade-off. Advancements in the industry combined with some regressions in the ThinkPad evolution under Lenovo may easily swing my decision in favor of some other vendor when my next laptop is due.
I have quoted MarkRHPearson heavily. I want to clarify that although I challenge many of his statements in this post and on the Lenovo support forums, I think his efforts in communicating our concerns to the company are invaluable. And his regular updates on the issues we raise are highly appreciated.